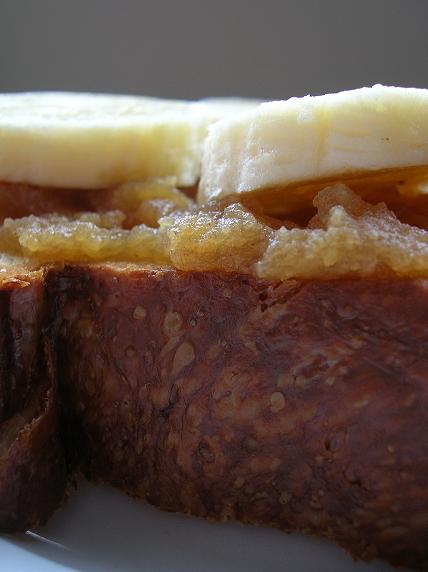 When my uncle lived in Tennessee for awhile he developed somewhat of an obsession for Elvis. Now not the kind that Elvis was used to(no panties were flying here
) But an obsession with finding all things tacky that were Elvis related…which lucky for him, was not hard to do. It became sort of a quest for me too. My aunt of course hated this with a passion and discouraged it greatly…I still do it…giving him Elvis wine for his wine cellar just this last year
. My best find however, came on the Mexican border, when I found a velvet painting of Elvis(his later, fatter years) dressed as a bullfighter and crying. I knew that would push my aunt over the edge and so I passed since I thought I would be nice to still get to talk to her at family functions.
I was trying to figure out what to do with my leftover brioche. On one of Dorie's side notes she talked about Bostock, a treat that the French came up with to use up their stale brioche. Traditionally it calls for almond cream and almonds, but I thought, hey, Elvis had a birthday this month, why not make a peanut butter and banana version of this and that is what I did.
I soon discovered why there is no peanut butter pastry cream…it separates something horrible
. I did however strain it and reheat and it turned out much better. It doesn't puff up like the almond cream would because it is oh so heavy. But it was good and a different way to start off the day instead of oatmeal.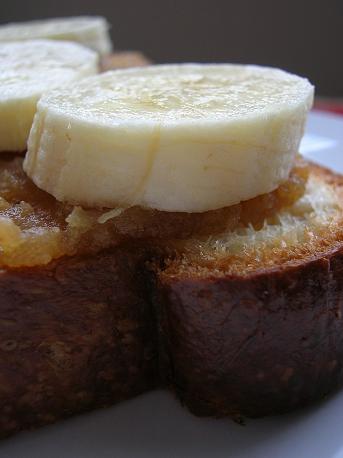 Peanut Butter Pastry Cream
1/3 cup sugar
1/8 cup cornstarch
1 1/4 cup cream
1/4 cup peanut butter
1 large egg yolk
Place sugar and cornstarch in a saucepan on medium heat. Stir in cream and using a figure 8 pattern, stir until it starts to thicken. Add peanut butter and stir. Put half the mixture in another bowl with an egg yolk and whisk vigorously. Put the mixture with the egg back into the pan and cook for another 2-3 minutes. Put pastry cream in a bowl and cover with plastic wrap and refridgerate.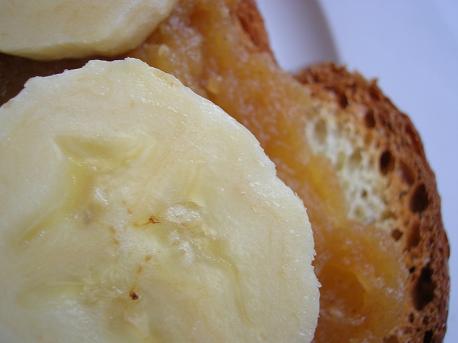 Bostock:
Cut a slice of brioche 1/2 to 3/4 inch thick. Spread the bread with peanut butter cream. leaving a little border bare. Put the bread on a baking sheet lined with parchment paper and bake in a 350F oven for about 10-15 minutes. Serve warm or at room temperature.
Source: Inspired by Dorie Greenspan's Baking From My Home to Yours