Okay , enough with that….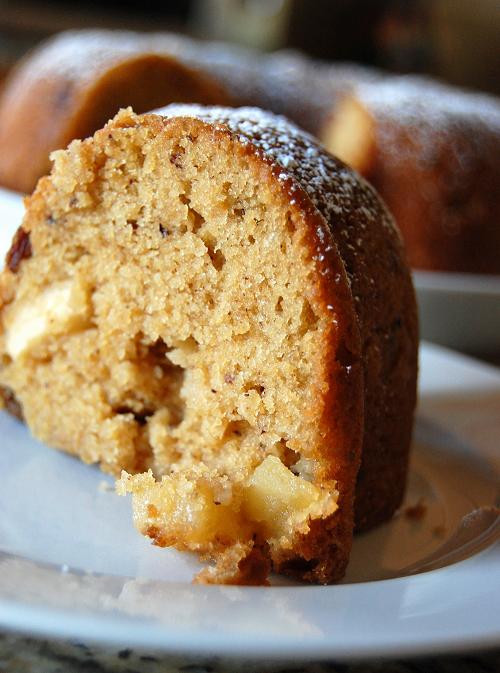 Well, we are in…and 91.6%(give or take a tenth of a percent) of the way set up. All in all,the move went very smoothly…until it came to cable/Internet. Craptastic Comcast has gone out of their way to prove that customer service is not something they pride themselves on. Even as I write this I do not have Internet but I am being cautiously optimistic that they are going to actually come and hook us up tomorrow(10/31)Update, they did and they cable guy was very nice. A week and a half without her food blog and without hockey on makes for a mighty cranky Peabody. Just as I thought hard and long about what would be the last thing I would make in my apartment kitchen, I had to think about what would be the first thing I would make to christen the new home kitchen. Sadly that was my husband making Bagel Bites on our second day of living here…ugh. Since this is my first house ever, I felt the need to go a bit 1950's housewife and make a bundt cake. Though I sincerely doubt that the 1950's housewife would have been screaming obscenities at some guy on Sunday for elbowing her in the head while playing hockey.
(Oh and in case you are wondering, I am back to playing hockey…so at least I can get my non-cable/Internet frustrations out by hitting people on skates). None the less, a bundt cake was decided upon, and a Dorie one at that, just to make sure it would turn out perfectly. I chose a Brown Sugar Bundt Cake that originally had pears in it, but I changed it to use up some of my apples(Honeycrips to be exact). It is very moist and gets a nice crunchy crust on the outside due to all the brown sugar in this cake. Once I get more neighbors(I'm in new construction) I plan on making mini ones of these to take over to them. For now, it was the guy working on the plumbing next door that got a piece to sample.
I was a dork and divided my kitchen into zones. So of course there is a baking zone. I can't tell you how wonderful it is to have everything I need in just one area. I even have a whole cabinet dedicated to props now! The tricky thing now is the lighting in this house. I didn't really bother today, just taking pictures in the kitchen but I am still working on finding the room I think brings the best light. I have a feeling I will be tinkering with that for quite sometime. So there you have it, my first effort from my new kitchen…with many more things to come…..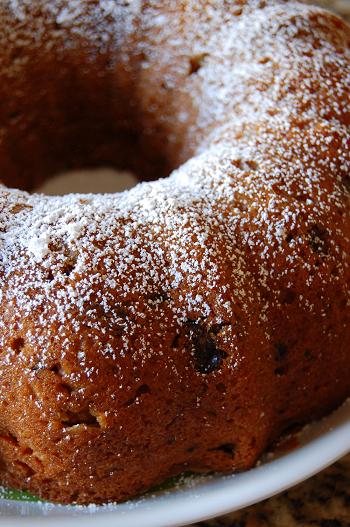 Brown Sugar Bundt Cake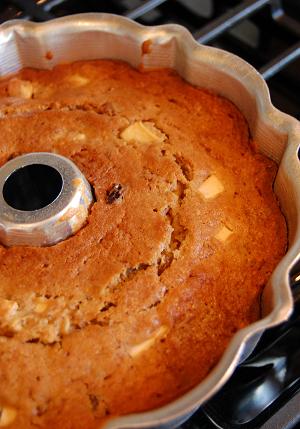 2 ¼ cups all-purpose flour ½ cup hazelnut flour(ground hazelnuts) 1 tsp baking powder ½ tsp baking soda ¼ tsp salt 8 ounces unsalted butter, room temperature 2 cups(packed) brown sugar 3 large eggs, room temperature 1 ½ tsp vanilla extract ¼ tsp pure almond extract 1 cup buttermilk 2 medium apples, peeled, cored and diced( ¼ inch) ½ cup moist, plump raisins(if too dry throw into hot water for 10 minutes…then drain from water and pat dry)
Preheat oven to 350F. Butter and flour a 9-10 inch Bundt pan(12 cup). Whisk together flours, baking soda, baking powder and salt. Set aside. Using a paddle attachment(stand mixer), beat butter and sugar together until light and fluffy, about 3 minutes. Add the eggs one at a time, beating for one minute after each addition. Beat in the vanilla and almond extract. Reduce the speed on the mixer and add the flour to mixture and buttermilk alternatively-add flour in 3 additions and buttermilk in 2(begin and end with dry ingredients). Mix only until the ingredients are incorporated and scrape down the bowl as needed. With a rubber spatula, stir in the apples and raisins. Scrape the batter into the pan and smooth the top with the spatula. Bake for 60-65 minutes. Transfer cake to rack and cool for 10 minutes before unmolding, then cool at room temperature on the rack. When you are ready to serve, dust the top of the cake with confectioners' sugar. Source: Adapted From Baking From My Home To Your by Dorie Greenspan