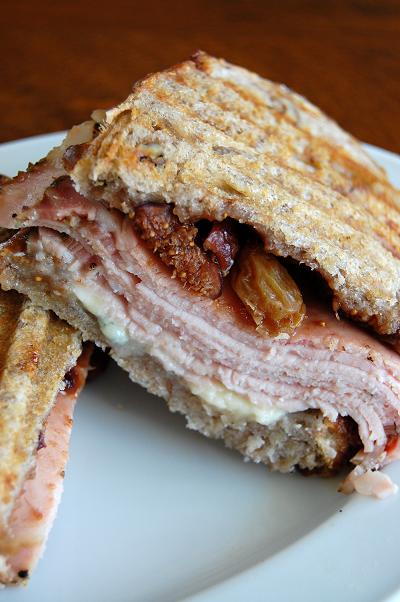 In hockey when you have bad streaks where you are not scoring(or as I call it…every time I play hockey) people want to get rid of the bad ju-ju. Hockey players are highly superstitious, as are a lot of athletes. So when your stick has been cursed you will find the player touching(usually the blade) another's player stick. You never do it in front of that player, you would piss him off for he would fear that he now had the bad ju-ju. So you have to do it when they are not looking. The player usually then feels that his curse is gone and he can go play hockey. Weird I know, but psychologically it seems to work for a lot of players.
Well, I need to go find a baker and touch their rolling pin or something when they are not looking. Seriously, I have some bad baking ju-ju going on. The un-Midas touch as I am calling it. I made a pots de crème that stayed liquid. I made a chocolate pudding that turned to paste…I am talking this stuff could be used for glue people. I made carrot muffins that did not rise, they sank. I made my old stand by, apple cobbler in hopes of getting back in the saddle and for the first time(I have made it a ton of times) it spilled over everywhere in the oven causing quite a mess and the smoke alarm to go off for what seemed forever. Then what I did bake that turned out, turned out ugly and was not wanting to photograph for me. AHHHHHH.
But I must go on. I have a blog to bake for and nothing in the archives to rely on. I had won a free jar of Fig 'N Ginger Chutney over at Blake Makes. You had to write in your post what you were going to do with it. I said I would make a pork panni with blue cheese and the chutney. Nothing too upscale. They liked the idea enough to send me a jar. I made a walnut and wheat loaf. You may be saying, that loaf looks good. It was. The loaf turned out fine…I did slice my thumb in 3 different spots while making it. Don't ask. Bad ju-ju.
The chutney is very pungent, like good chutney should be. Lots of good chunks of figs in it too. Gigantic raisins(really where did they find these?) and bits of apple. McQuade's Celtic Chutney offers a variety of flavors from Melon and Peach to Plum and Black Pepper. All of which I am sure I could make a sandwich with.
They also have seasonal chutney's that sound wonderful. I am really loving the sound of the Strawberry Cardamom Chutney and and am considering sending my mom some Rhubarb and Tangerine Chutney since she is the rhubarb lover of the family.
The actual making of the sandwich went off without a hitch. Perhaps a good sign of things to come. Still just in case, bakers beware(Helen I'm coming for you!), I might just be sneaking into your kitchen and touching your oven.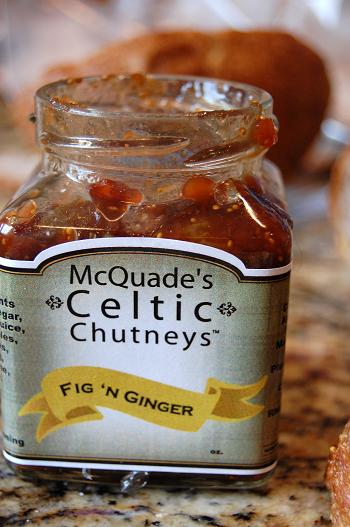 Gorgonzola, Fig and Ginger Chutney, Shaved Pork Sandwich on Walnut Wheat Bread(say that 5 times fast)
two slices walnut wheat bread(recipe follows)
sliced pork(I used 5 slices…but I like my meat)
a generous spreading of McQuade's Celtic Fig 'N Ginger Chutney
Slices(or crumbles as it tends to do) Gorgonzola cheese
Take one slice of bread and spread the chutney on it. Place pork on top of that. Place Gorgonzola on top of that followed by the other slice of bread. Slather the top and bottom pieces of bread with room temperature butter and place in pan, or if you are like me in a panni maker. Grill until cheese is melty and it is browned on the outsied.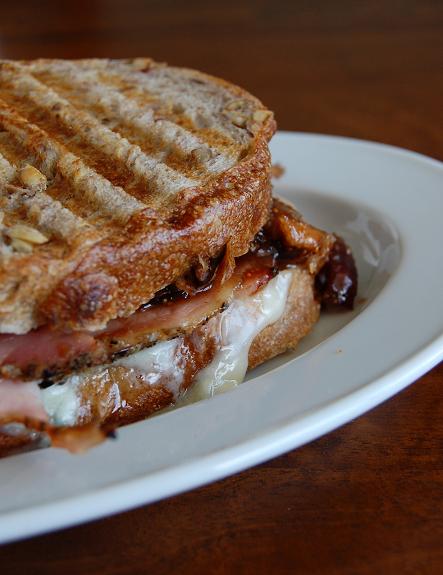 Rustic Whole-Wheat Walnut Bread
ingredients
1-3/4 tsp. active dry yeast
1-2/3 cups cool water
9 oz. (2 cups) unbleached bread flour
5 oz. (1 cup plus 2 Tbs.) fine whole-wheat flour
4 oz. (3/4 cup) coarse stone-ground whole-wheat flour
2 tsp. salt
1 cup walnuts, coarsely chopped
how to make
In the mixing bowl of a heavy-duty electric mixer, sprinkle the yeast over the water. Let it sit until the yeast dissolves and the water looks milky. Add the flours, salt, and walnuts. With the paddle attachment, mix on low speed until a rough dough forms. Change to the dough hook and knead on medium speed until the dough pulls away from the bowl to form a ball. You may need to add a small amount of flour or water to get the right consistency.
Turn the dough out into a lightly oiled bowl and cover with plastic wrap. Set in a warm spot (about 75°F) until doubled in bulk, 2-1/2 to 3 hours.
Line a basket or bowl with a kitchen towel or a piece of cotton fabric and sprinkle it lightly with flour. Turn the dough out onto a lightly floured work surface, knead it a few times, and shape it into a round. Put it in the basket, bottom up, and fold the ends of the towel over it. Cover with a large plastic bag (like a kitchen garbage bag). Set in a warm place and let rise until doubled in bulk, about 1-1/2 hours.
Set one oven rack in the lowest position; put a large, shallow pan on that rack. Set the second rack just above that and position the baking stone on it. Heat the oven to 425°F for at least 45 minutes. Just before you put the bread in the oven, bring about 2 cups of water to a boil.
Lightly dust a baking peel or a flat baking sheet with flour. Remove the plastic bag and gently invert the dough onto the peel. (The dough may deflate somewhat.) Remove the basket and towel. With a single-edge razor blade or a sharp serrated knife, make a few slashes in the surface of the dough.
With a quick jerk, slide the dough from the peel to the baking stone. Wearing long oven mitts and standing as far away from the oven as you can, immediately pour the boiling water into the pan in the bottom of the oven. Caution: This will cause an instant burst of steam. Close the oven door immediately and don¢â¬â"¢t open it for at least 10 minutes or the steam will escape.
Bake the bread until it is well browned and sounds hollow when thumped on the bottom, 35 to 40 minutes. Cool completely on a rack before serving
From Fine Cooking 30, pp. 61