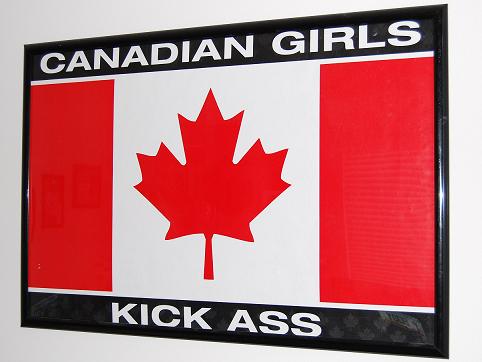 When I first saw this event I decided to ask my "American" friends what they thought of when I said the word Canada. Hockey, beer and maple syrup…oh and Canadian Bacon(it's called back bacon people!!!) All good things but I found it humorous that those were pretty much the same four answers I got over and over again. I did get a Bryan Adams the singer and "cold" thrown in now and then for good measure.
If I hadn't felt so crummy as of late I would have made something involving back bacon and beer for the savory event that Jasmine is holding…I might just do that for me anyhow.

Since I was only going with the one event, Mmmm Canada(the sweet edition), hosted by none other the Domestic Goddess herself, I settled on good ol' maple syrup(Canada does after all make more than 80% of the world's supply). Most people in the states think maple syrup is Mrs. Butterworth or Log Cabin…ugh(so does, surprise…my husband). Oh the horror. FYI- none of those actually contain any maple syrup. Lucky for me more and more places are carrying actual maple syrup and people got to stop sending it to me since I could get it here.
Maple syrup comes in different grades, but I am a grade B girl myself. I like the flavor better for baking and cooking. And speaking of baking, I made a maple syrup pie. It is a combination of my friend's(from Quebec) recipe and a recipe I found in Sweets, which was interesting since it is a southern cookbook. You can use just about any type of nut, but you really do have to love maple syrup to eat this pie. I used the cream cheese pie crust that I used for my salmon quiche since I had some left over but you could use whatever pie crust you like.
Hope everyone who celebrates it has a great Canada Day!(it's July 1st if you didn't know)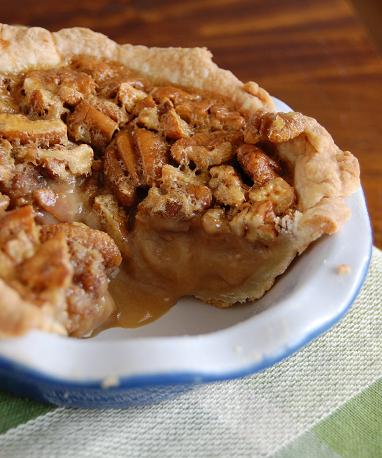 Maple Syrup Pie
1 unbaked 9-inch pie crust
2 ¼ cups maple syrup(the real stuff)
¾ cup heavy whipping cream
1/3 cup all-purpose flour
4 eggs
1 cup pecans, roughly chopped
Preheat to 375F.
In a large bowl, whisk together maple syrup, heavy whipping cream, and flour until blended.
Add eggs one at a time, making sure the it's blended well.
Fold in the pecans.
Pour the filling into the prepared pie crust.
Bake for 10 minutes. Reduce the heat to 350F and bake for another 30-35 minutes or until the filling is set.
Remove from oven and cool on a wire rack for 30 minutes before serving. I serve mine with maple whipped cream as well as more maple syrup poured over each slice. But I love me some maple sryup.
Adapted from Sweets:  A Collection of Soul Food Desserts and Memories by Patty Pinner and my friend C's grandmother.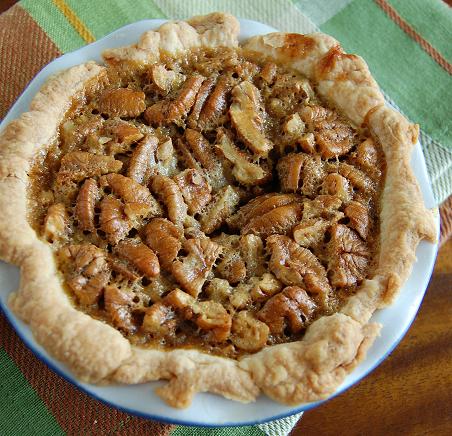 Cream Cheese Pie Crust(from Northwest Noshings)
2 cups all-purpose flour
8 ounce cream cheese, softened but still cool
2 sticks(8 ounces) unsalted butter, softened but still cool
In a mixer, combine all ingredients and mix on medium-low until it forms a dough. Wrap in plastic wrap and place in fridge for 30 minutes.