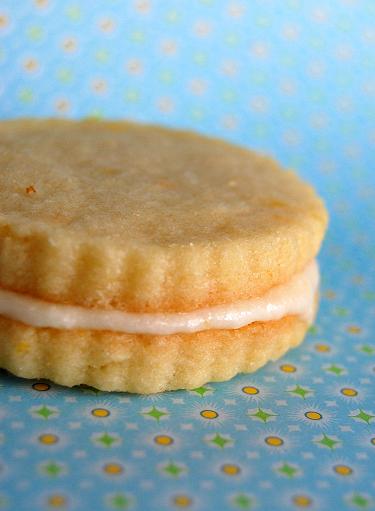 My mom keeps cookies and quick breads in her freezer to take out when people stop by unannounced..and people do that a lot in her little town. Every time I am there some one is just stopping in to say "hi". So when my In-laws and I were there in July my mother-in-law found it to be the strangest thing that my mom just whipped out two types of cookies from the freezer and put them on a plate. Though not strange to me.
Then we got home. We had some down time and cool weather for July and so the baking itch happened. I had wanted to try to make a pie that was similar to key lime but use oranges(recipe coming in the next week) and I wanted the crust to be a butter citrus cookie. Knowing all to well that this cookie did not exist commercially I searched for a recipe to make it. When my mother-in-law asked me what I was making and I told her and told her why…out came the strange look I saw her give my mother. "You make your own cookies to make a crust?" Not always I told her but I am looking for a certain flavor, so yes, I needed to make them special for this.
I so often forget that not everyone is like me. There is a very good reason Sandra Lee(don't get me started on that woman) is so popular on the Food Network. Or Rachel Ray for that matter(never had a successful recipe from her btw…though after the 3rd on I stopped trying). People want short cuts, not wanting to extend the cooking process. Well, not all people. Some of us crazies are out there.
Now I am not nearly as bad as I used to be. I had a phase there were I was even making my own ricotta cheese to go into my lasagna…with homemade noodles of course. I creamed my own butter…which I must admit I still do to make a couple cake recipes…comes out soooo nice.
So as not to look totally crazy to my mother-in-law I decided to make the full cookie recipe and fill half of them with the buttercream frosting that was suppose to go with them. I actually prefer these cookies without the buttercream to my surprise.
And the good thing is, these freeze nicely so you can have them in your freezer ready for guest to look at you strangely whenever they stop by.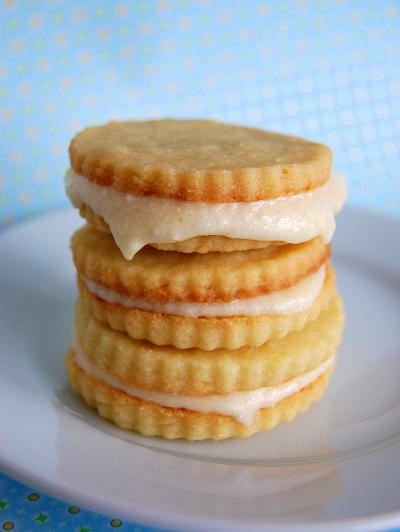 Citrus Sandwich Cookies
Citrus Cookies
2 cups all purpose flour
¼ tsp baking powder
¼ tsp salt
14 TBSP unsalted butter, softened
1 cup granulated sugar
1 large egg yolk
2 tsp finely grated lemon zest
2 tsp finely grated orange zest
Whisk together the flour, baking powder and salt in a medium bowl; set aside.
In the bowl of an electric mixer fitted with a paddle attachment, beat butter and sugar at medium speed for 3 minutes. Add egg and zest and beat until combined. Reduce to slow speed and add flour mixture just until well blended. Scrape dough onto a work surface and gather it up into a disk. Wrap the disc in plastic warp and refrigerate for at least 2 hours, until firm(up to 3 days).
Position two racks near the center of the oven and preheat the oven to 350F. Line tow baking sheets with parchment paper or foil.
Place the chilled dough on a lightly floured work surface and sprinkle lightly with flour. Using a rolling pin, roll the dough out to a thickness of 1/8 inch. Using a 1 ½  inch round scalloped cookie cutter, cut out as many cookies possible from the dough.
Transfer dough to baking sheets and bake for 9-11 minutes or until lightly browned on the bottom(not the top).
Transfer the cookies to wire racks and cool completely.
Citrus Filling
¼ cup orange juice
1 TBSP lemon juice
6 TBSP unsalted butter, softened
1 ½ cups powdered sugar
1 TBSP heavy cream
pinch of salt
In a small nonreactive saucepan, bring the orange and lemon juices to a boil over high heat and boil for 3 to 5 minutes, or until reduced to about q TBSP. Let cool completely.
In a bowl of an electric mixer, using the paddle attachment, beat the butter, powdered sugar, cream, slat and cooled citrus juices at medium speed until smooth.
Spread about a tsp of the filling onto the bottom of one of the cookies. Top with another cookie. Press the cookies lightly together. Repeat with the remaining cookies and filing. Serve the cookies at room temperature or chilled.
Adapted from The Good Cookie by Tish Boyle