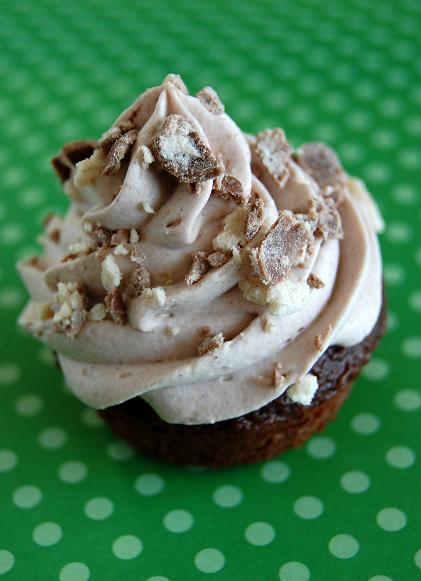 You might have noticed me not leaving comments on your blogs the last week or so. Sorry about that. See, it started with a cold. Then stomach flu. But not how I normally get stomach flu. Normally when I get it, it attacks my body in a violent way expelling everything out my mouth and is gone in about 24 hours. Not this time. It was mild this time around but dragged on and on and on.
I missed dinner with a friend, a baby shower and my week off from score keeping(I guess it was good I had time to rest). I did however still make it to my dinner at the Herbfarm.
The stomach part has past but the cold seems to be sticking around, so kind of it. But since I seem to be getting better you should see my more in the blog world.
This weeks TWD pick, chosen by Rachel of Confessions of a Tangerine Tart, was Chocolate Whopper Malted Drops. Once again though, I was not in the cookie mood. I know, not in a cookie mood? You think I would just do the cookies as they are simple. Not that my version in cupcake form was all that hard. These are basic chocolate cupcakes with some malted milk added to them. I made a chocolate malt whipped cream frosting because I wanted the topping to be light so that the crushed Whoppers would stand out.
You can pretty much pop about 5 of these at a time without blinking an eye…or at least I can.
P.S. Thanks again for all your support for the candidates, as requested by some, their bios will be up this week.
UPDATE: To make the week even more of a Whopper, poor Little Fuzzy Bunny(LFB) got a puncture in her eye (from a piece of hay). It got bacteria in it and she now has a 50% chance of losing her eye. We will know more on Monday. Right now she is undergoing treatment. So if you are the praying type could you say a little one for her please.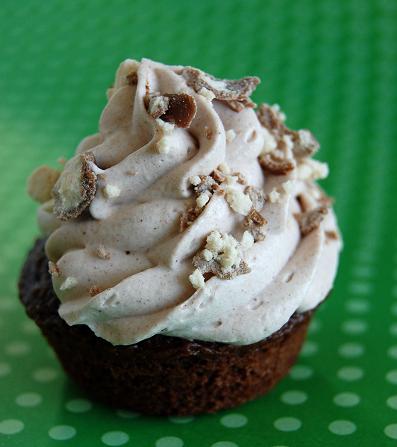 Chocolate Whopper Malted Cupcakes
Chocolate Malted Cupcakes
1 2/3 cup all-purpose flour
2 tsp baking powder
1 tsp salt
2/3 cup unsweetened cocoa powder
¾ cup malted milk powder
½  cup unsalted butter, room temperature
1 ½  cups sugar
2 eggs
1 ½  cups whole milk
1 tsp vanilla extra
Preheat oven to 325F
Mix flour, baking powder, salt, malt powder, and cocoa together and set aside.
Cream the butter and sugar until light and fluffy. Add eggs, one at a time, mixing well after each addition. Alternately add flour mixture and milk. Add vanilla a beat well.
Spoon batter into cupcake papers, filling cups about 2/3 full. Bake for 25(15 minutes for mini) minutes or until a tester inserted into the center comes out clean. Remove from oven and cool.
Chocolate Malted Milk Whipped Cream Frosting
1 cup heavy whipping cream
1 cup powdered sugar
4 TBSP malted milk powder
2 TBSP unsweetened cocoa powder
In a large bowl, whip the cream until it forms soft peaks. Add sugar, malt powder, and cocoa powder. Beat until stiff.
Frost cooled cupcakes with whipped cream frosting. Top with crushed Whopper(malted milk balls) pieces.