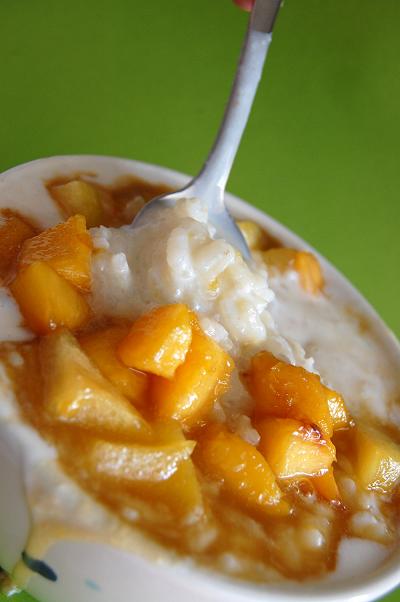 There isn't much in the food world that I haven't at least tried, unless of course I am allergic (which rules out quite a few things). Yet there was one food item I had seen time and time again on people's blogs that I had never tried but always wanted to….rice pudding.
I'm not even sure why I have never tried it. I mean it is a lot of people's go to ultimate comfort food, and I love me some comfort food.
I was at the grocery store and I saw a container of Kozy Shack rice pudding and decided that enough was enough, I was going to break down and make some. I was however determined that it would be bland for some reason and so I felt the need to make it a sauce. I also searched for a recipe using arborio rice as it gives off a more creamy texture.
When all was said and done I stood there looking at it, it's not all that pretty by itself, then again neither is bread pudding and I love that. I scooped my spoon in and into the mouth (cue the romance music). Yeah, I get it. Big time. This stuff is comfort in a bowl. It ranks right up there with grilled cheese and tomato soup comfort…and that is a serious compliment.
I think next time I might throw in a few more spices but with the addition of the butterscotch sauce, there were not needed so much this time around.
Do yourself a favor, if you were like me and have never had rice pudding, go ahead and make it. Hopefully you will have the same reaction as I did.
P.S. CCS is doing better. LFB is doing the same, will no more on Monday.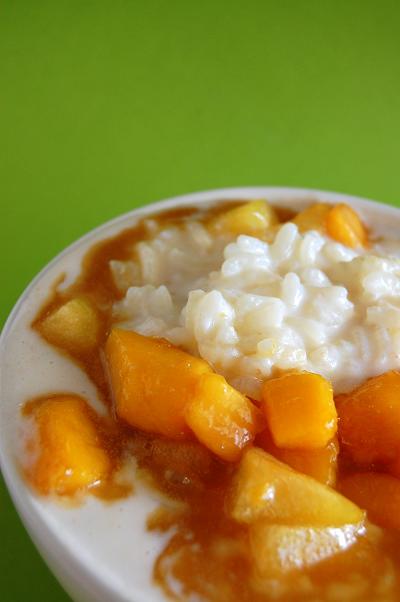 Arborio Rice Pudding with Stone Fruit Butterscotch Sauce
Arborio Rice Pudding
1 cup water
Pinch salt
½ TBSP unsalted butter
½  cup Arborio rice
2 cups whole milk
8 TBSP granulated sugar
1 tsp vanilla extract
¼ tsp ground cinnamon
1/8 tsp ground nutmeg (fresh)
Bring water, salt, and butter to a boil in a medium saucepan. Add the rice, return to a boil, and then reduce the heat to the lowest setting. Shake the pan occasionally and cook until rice has absorbed the water but it still al dente, about 15 minutes.
Bring milk, sugar, vanilla, and spices to a simmer in a separate saucepan. Add the cooked rice and cook at a simmer over medium-low heat until rice absorbs most of the milk and mixture starts to get thick and silky, about 10 to 15 minutes.
Transfer pudding to a large bowl and cool to room temperature. Place in refrigerator until cool and set. Serve with whipped cream and a dash more cinnamon.
Adapted from Food Network.com
Stone Fruit Butterscotch Sauce
¾  cup light brown sugar, packed
½  cup light corn syrup
4 TBSP unsalted butter, divided
½  cup whipping cream
1 tsp vanilla
1 large peach, peeled and diced
2 medium pluots, peeled and diced
Combine brown sugar, corn syrup, and 2 TBSP butter in a small saucepan. Bring to a boil over medium heat, stirring constantly.
Boil for 1 minute; remove from heat. Stir in cream and vanilla immediately. Be careful as sauce will boil up and possibly splatter and could burn you. Set aside.
In a separate pan, melt 2 TBSP of unsalted butter. Add stone fruits and cook on medium heat until fruit starts to get soft, about 2 minutes.
Fold fruit into butterscotch sauce and scoop on top of rice pudding servings.