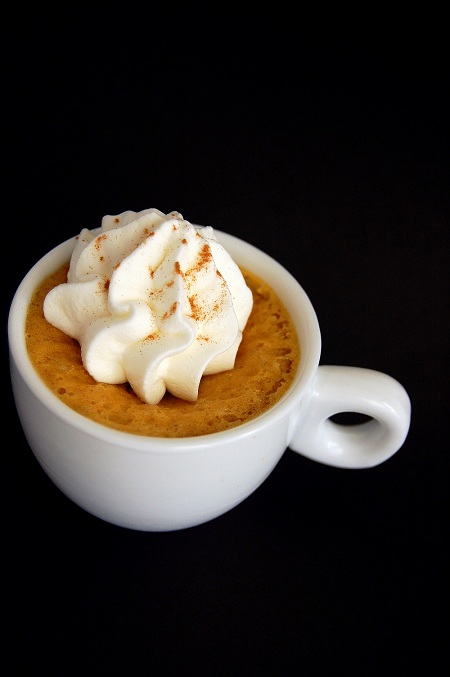 I know that fall is just around the corner when Starbucks rolls out their Pumpkin Spice Lattes. Nothing makes me giddier than getting my first one. The aroma of the coffee with the hint of pumpkin and the warming spices just puts you in a happy mood. Top that with a little whipped cream and you are good to go.
I was doing a little different sampling of pumpkin this weekend, attending the Great Pumpkin Beer Fest(at Elysian Brewery here in the Seattle area) where they featured 30 different pumpkin beers, including one that they do a second fermentation in an actual giant pumpkin (even if you don't like beer, you have to admit that is cool). Though I learned that when one starts drinking at 1pm and just keeps going, no matter how small the glass, you will end up sleeping on your friends couch so you don't drive home. And you will end up with their cat sleeping on your face. Which I did not realize cats do. So that was an interesting way to start the day.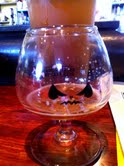 (See glass is very tiny)
Too make things even more festive I drove through one of the millions of Starbucks to get me a pumpkin spice latte this morning, got to keep the pumpkin theme rolling. There are a lot of Pumpkin Spice desserts out there floating around but there aren't that many that throw coffee into the mix as well. Which I don't know why since so many people do love themselves a pumpkin spice latte.  So I am helping those people out. I'm just nice that way.
These are very tasty, and very rich. If you are wondering where one buys coffee extract, I get mine at Sur La Table, but I know they sell it on Amazon.com as well. I would not suggest using powdered coffee or anything like that. Be sure to top off with whipped cream and a little sprinkle of cinnamon to give it a more authentic look and taste.

Pumpkin Spice Latte Mascarpone Cheesecake Pots

3/4 cup heavy cream
6 ounces canned pumpkin (not pumpkin pie mix)
8 ounces mascarpone cheese, at room temperature
1/2 cup sugar
1/2 tsp. vanilla
1 tsp. coffee extract
1 TBSP flour
pinch of salt
1 tsp. pumpkin pie spice
3 large eggs
Position rack in the middle of the oven and preheat to 325F.
In a bowl of a stand mixer, beat together the mascarpone cheese and sugar until smooth using the paddle attachment.
Add the pumpkin and beat until incorporated.
Add cream slowly into the cheese mixture until fully incorporated.
Add eggs one at a time, beating well after each addition ( I like to scrape down the bowl after each addition as well) until smooth.
Add vanilla, coffee extract, flour, and salt and beat to combine.
Put eight 4-ounce custard cups, ramekins, or small oven proof coffee cups in and empty 9 by 13-inch baking pan. Divide the cheesecake mixture among the cups.
Put the baking dish in the oven and then carefully pour boiling water into the pan. Add just enough water to reach halfway up the sides of the custard cups. Cover with aluminum foil.
Bake until the tops of the cheesecakes appear solid but jiggle slightly when shaken, 30-40 minutes. These will firm up as they cool to room temperature. Cover each pot with plastic wrap and refrigerate for at least 4 hours, preferably overnight. These can be made up to 2 days in advance.
Top with whipped cream and sprinkle with cinnamon.
Adapted from Sticky, Chewy, Messy, Gooey by Jill O'Conner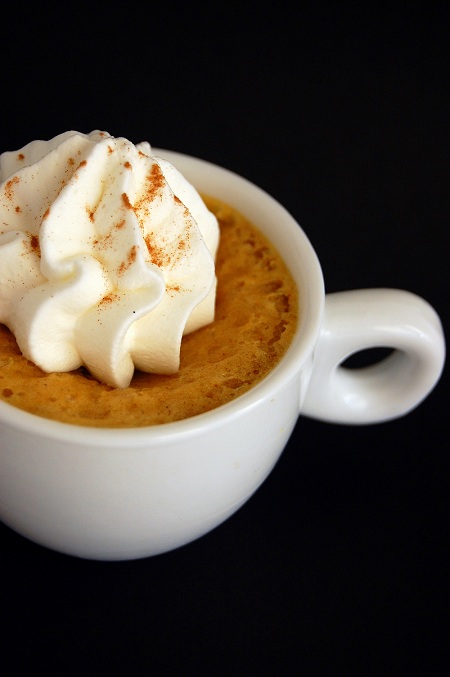 Pin It