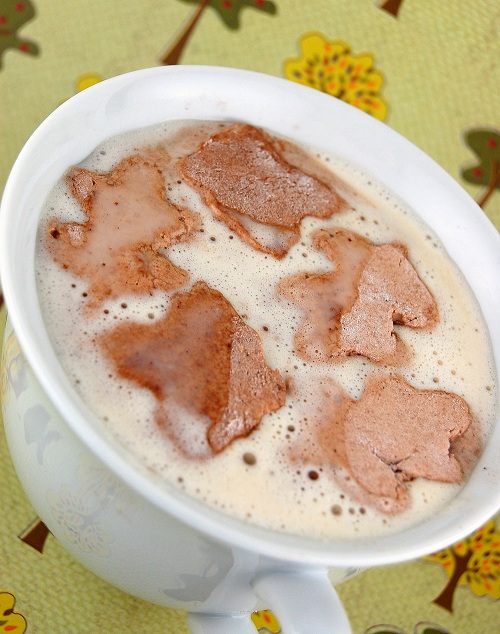 Growing up when I was not feeling well, no matter if I was faking it to avoid school (don't read that mom) or if I was actually sick, two things could always make me feel better. One was cinnamon sugar toast with the edges cut off (which was normally severed with 7-Up) and the other was hot chocolate with marshmallows.
Though as a kid and even now as an adult, if they make a good one (like Stephens hot chocolate) I don't mind a packaged cocoa mix. What I do/did mind however were the Lucky Charm type marshmallows that they tried to pass off in the cocoa mix with marshmallows as marshmallows. What crap. Those were no marshmallows. I'm not sure what they were, but they don't melt and get gooey like real marshmallows do and that's the best part about them. Melting down into and mixing with the cocoa. Plus if you don't use real marshmallows you can't reenact the scene from Wizard of Oz and shout out "I'm melting, I'm melting" as they slowly dissipate into the hot chocolate.
Homemade marshmallows are nothing new. I like to make batches this time a year as the weather turns cold. Coming up with new flavors is always fun. For a while there was a beverage trend to make ice cubes out of the same thing you were drinking, that way you wouldn't water down your beverage. Which is a good idea and I decided that though marshmallows don't water down the hot chocolate flavor, why not just add to it.
I made mine into the shape of leaves. This is my most favorite time of year, and not just because hockey is back on.  I love finding country roads on clear, windy days and watching the leaves swirl around me as I leisurely drive shouting out the lyrics to some 80's song (ugh, did you know my 20 year high school reunion was a couple weeks ago…I. Am. Old….and no, I didn't go). I thought the leaves were fun and festive. I used Stephen's French Vanilla Cocoa in order to better display the leaves. But you can use whatever type you would like. Or if you are anti-powdered hot chocolate, make your own.
P.S. Notice that some of them are maple leaves.

Hot Chocolate Marshmallows
3 packages unflavored gelatin
1 cup ice cold water, divided
12 ounces granulated sugar
1 cup light corn syrup
¼ tsp. kosher salt
1 tsp. vanilla extract
3 ounces hot chocolate mix
¼ cup powdered sugar
¼ cup cornstarch
¼ cup unsweetened cocoa powder
Nonstick spray
Place the gelatin into the bowl of a stand mixer along with 1/2 cup of the water. Have the whisk attachment standing by.
In a small saucepan combine the remaining ½ cup water, granulated sugar, corn syrup and salt. Place over medium high heat, cover and allow to cook for 3 to 4 minutes. Uncover, clip a candy thermometer onto the side of the pan and continue to cook until the mixture reaches 240 degrees F, approximately 7 to 8 minutes. Once the mixture reaches this temperature, immediately remove from the heat.
Turn the mixer on low speed and, while running, slowly pour the sugar syrup down the side of the bowl into the gelatin mixture. Once you have added all of the syrup, increase the speed to medium. Add powdered hot chocolate mix at this time, 1 TPSP at a time to avoid it spitting back at you (you know, like a llama). Bring speed up to high when all hot chocolate mix is in.Continue to whip until the mixture becomes very thick and is lukewarm, approximately 12 to 15 minutes. Add the vanilla during the last minute of whipping. While the mixture is whipping prepare the pans as follows.
Combine the powdered sugar, cocoa powder, and cornstarch in a small bowl. Lightly spray a 13-by-18-inch metal jelly roll pan with nonstick cooking spray. Add the sugar and cornstarch mixture and move around to completely coat the bottom and sides of the pan. Return the remaining mixture to the bowl for later use.
When ready, pour the mixture into the prepared pan, using a lightly oiled spatula for spreading evenly into the pan. Dust the top with enough of the remaining sugar and cornstarch mixture to lightly cover. Reserve the rest for later. Allow the marshmallows to sit uncovered for at least 4 hours and up to overnight.
Turn the marshmallows out onto a cutting board and cut into leaves or any shape for that matter, with a cookie cutter dusted with the powdered sugar mixture. Once cut, lightly dust all sides of each marshmallow with the remaining mixture, using additional if necessary. Store in an airtight container for up to 3 weeks.
Adapted from Alton Brown Food Network.com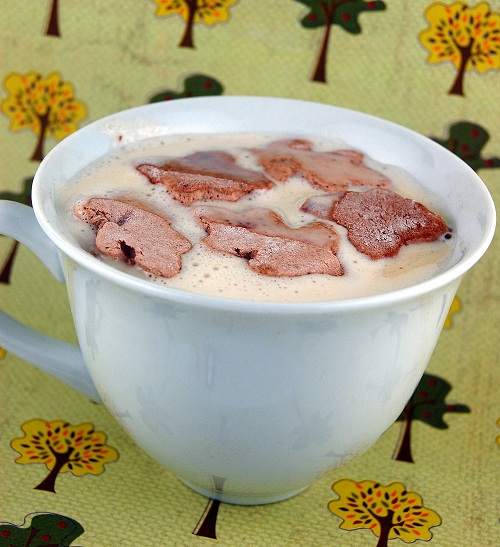 Pin It