I get cookbooks from many sources. Some I buy (we all know I have a problem) but some I get from publishers. Some they want me to review. Some the send hoping I will mention them. If I like the book it makes it on here. If I don't like the book I usually write the publisher and tell them if they want me to post my real opinion of the book in which they say no thanks. So it doesn't go on. But I got an email from Houghton Mifflin Harcourt listing a few cookbooks and did I have any interest in receiving one. I looked at the list and chose Beat This! Which I must have been in a very mature frame of mind when I chose that because when it came in the mail I could not help but giggle like a 12 year old boy at the title.
Once I got past giggling about the title I noticed that it was a reprint and 50 new recipes had been added. So I asked around and somehow I have been living in a cave….because a large amount of people I know own, and love this cookbook. I felt so very out of the loop. What is great about this book to me is that, just like the cookbook I hope to write some day each recipe usually has a little something written, often humorous with each recipe. I put off for weeks figuring out what I wanted to make. My best friend was rooting for the Jalapeno Corn Bread. The rabbit was leaning towards the carrot cake as to get the carrot tops. My tight pants were suggesting something like the Lime Sorbet Supreme. But in the end, it was the extremely large amount of almost too ripe bananas that won out. I looked up bananas and found Best Banana Bread.
Now when recipes call something the best it irks me. Because what is best to me, is not to you so I hate when people say these are the best chocolate chip cookies, or pie, or whatever. This banana bread was good…but not the best. I like my mom's the best.
And to be honest this is more borderline cake with 2 cups of sugar in it…and cake flour.
Which of course was fine by me. The original recipe used lemon juice and orange zest which I opted out of. Instead adding vanilla extract and chopped up peanut butter cups.
The smell was over powering to my puppy. As you can see she was doing all that she could to restrain herself from licking it. She really, really wanted to. In fact, that last photo was one I took of her right after I took the bread away. It was her: how dare you take that away and not give me any you mean mommy look. But the chocolate inside was the meanie…not me.
She does say thanks to all of you for sending her hugs after her incident.
If you have been living in a cave like me and have not heard of this book either, it's a good pick up. It's not just baking either. There are a variety of foods in there from Roasted Carrot and Ginger Soup to Slow-Cooked Salmon with Pistachio Butter. All which sound delightful.
As usual I must disclose that I received my copy of Beat This! Cookbook by Ann Hodgman for free but the opinion, ramblings, and bad grammar are all mine.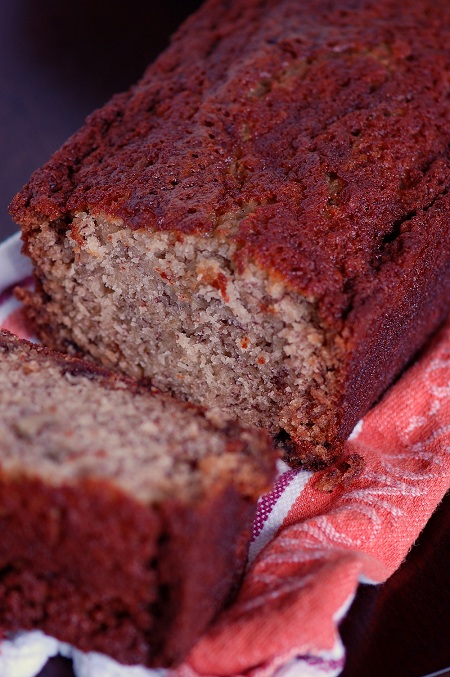 Peanut Butter Cup Banana Bread
2 cups granulated sugar
16 TBSP (2 sticks) unsalted butter, at room temperature
4 very ripe large bananas
4 eggs, well beaten
1 tsp. vanilla extract
2 ½ cups cake flour, sifted
2 tsp. baking soda
1 tsp. salt
10 regular sized Peanut Butter Cups, chopped into small pieces and coated in 1 TBSP of flour
Preheat oven to 350F.
Spray two 9-5-inch loaf pans with baking spray.
Using a stand mixer cream together the butter and sugar until light and fluffy, about 3 minutes.
Add eggs, vanilla extract, and bananas and beat until uniformly blended.
Sift together the dry ingredients. With the mixer on low speed, at the flour mixture and add just until you cannot longer see any of the dry ingredients.
Remove bowl from mixer and fold in candy pieces.
Bake 45-55 minutes. These get brown quickly, so check at the 30 minute mark, you will want to put foil lightly over the top to stop it from going Cajon brown on you…blackened is not good on bread, only meats.
Cool the loaves on a rack for ½ before you remove them from pan.
Adapted from Beat This! Cookbook by Ann Hodgman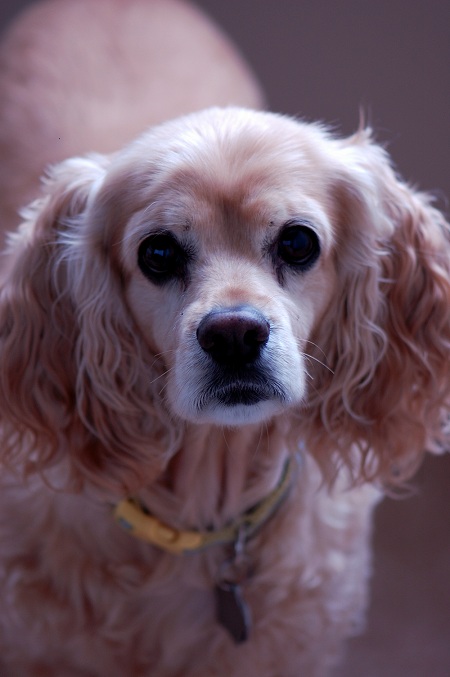 Pin It