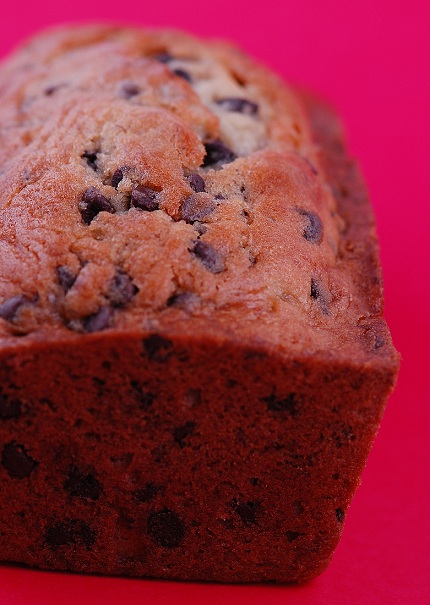 I got a bill for $0.34 from my doctor. Then I got a second notice. Then a third. I just kept waiting for there to be a larger bill but it never came. So I got an evil final notice from them and interest making it almost a dollar. Which I then paid in all in pennies to them through the mail…five cents at a time. I'm fun when messed with.
I am still crazy busy so this is another quickie post. These are muffins, but not really. More like cupcakes without frosting. But I like to call them muffins so that they seem more legit to eat for breakfast.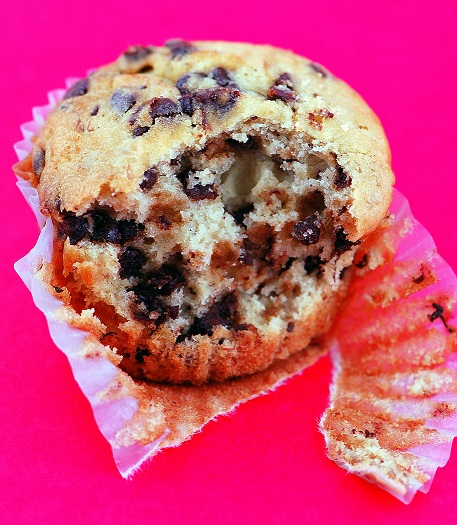 Banana Chocolate Chip Bread
2 ¼ cups all-purpose flour
1 TBSP baking powder
1 tsp. baking soda
¼ tsp. salt
1 cup sour cream
6 ounce unsalted butter, at room temperature
1 cup sugar
2 large eggs
2 fully ripe bananas, pureed
¾ cup mini chocolate chips
Preheat oven to 350F. Grease and flour a 9-x-5-3-inch loaf pan, or three mini loafs, or 16 muffin cups.
Sift flour, baking powder, baking soda and salt into a medium bowl and set aside.
Using a standing mixer fitted with a paddle attachment beat the butter on high speed until soft and creamy, about 1 minute. Slowly add the sugar, 1 TBSP at a time, beating continuously on high speed. It should take 5 to 10 minutes to add the sugar. The mixture should be light, fluffy and creamy white in color. Stop the mixer and scrape down the sides of the bowl with a rubber spatula.
Add the eggs, one at a time. Be sure each egg is completely incorporated and scrape down the sides of the bowl before adding the next.
Add one third of the flour mixture to the batter and beat until it is just incorporated. Add one third of the sour cream and mix until just incorporated. Add the flour and sour cream in two more additions, mixing until addition is incorporated before adding the next. Fold in the bananas and chocolate chips.
Pour the batter into prepared pan. Bake for 1 hour and 15 minutes for large loaf, thirty minutes for mini loafs and 22-24 minutes for muffins. Cool in the pan on a rack for 5-10 minutes, then remove from pan and set on rack to cool. Serve warm or at room temperature. Will keep for one week in fridge or 3 weeks in freezer.
Source: Adapted from The Secrets of Baking by Sherry Yard