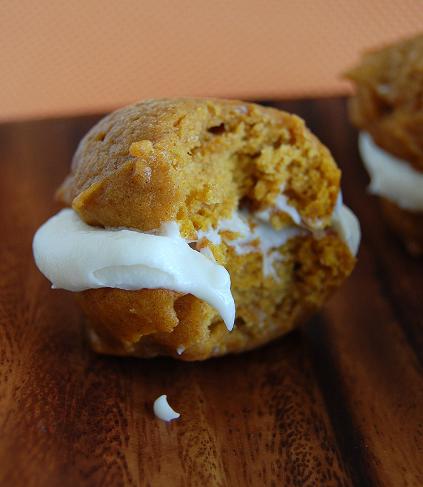 I have a friend who is historically 20 minutes late to everything. I will be at the movie theater at the time we were supposed to meet and I will get a text, just leaving now see you in a few. A few? You live like 30 minutes away. And of course I get the "it's a perfect excuse to get dinner before the movie" line when we are too late to see the movie at the time we were supposed to. But what makes her even a little more on the annoying side is that while she is late to almost everything, if you are late in the slightest she points it out. "I'm pretty sure we said 8, not 8:05". Yes I usually want to smack her. And speaking of late…
While on the calendar it is not officially fall, when I turn the calendar over and see the word September, I best be getting some fall like weather. And I didn't. Fall-like weather took its sweet ole time getting here…thirteen days to be exact. Yesterday was the first day I woke up and actually felt a little chill and tinge regret that I wasn't wearing something warmer when I went to bed that night. While I am annoyed that it showed up late, I will forgive fall weather as long as it chooses to stick around.
Because fall is pumpkin to me, I chose to highlight one of the more popular things I make over and over, Pumpkin Whoopie Pies with Maple Cream Cheese Frosting. These are extra dangerous because they are smaller in size, and you can pop a few in your mouth, and then a few more, and a few more and so on. The good news is that with the fall weather comes so do the cooler temps, which means you can plump up and just blame the extra bulk on your sweater.
Get ready as I am sure you will be seeing a lot more pumpkin everything in the coming months!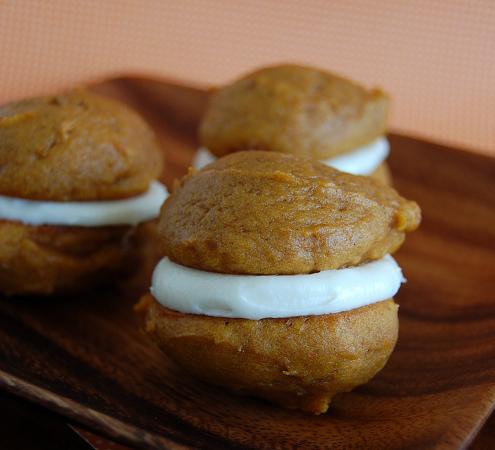 Pumpkin Whoopie Pies with Maple Cream Cheese Filling
Pumpkin Whoopie Cookies
3 cups all-purpose flour
1 tsp salt
1 tsp baking soda
1 tsp baking powder
2 TBSP cinnamon
1 tsp ground ginger
½ tsp ground fresh nutmeg
1 cup granulated sugar
1 cup dark brown sugar, firmly packed
1 cup canola oil
3 cups chilled pumpkin puree
2 large eggs
1 tsp vanilla extract
Preheat oven to 350F. Prepare to baking sheets lined with parchment paper.
In a large bowl, whisk together the flour, salt, baking soda, baking powder, and spices. Set aside.
In a separate bowl, whisk to sugars and oil together. Add the pumpkin puree and whisk to combine thoroughly. Add the eggs and vanilla and whisk until combined.
Sprinkle the flour mixture over the pumpkin mixture and whisk until completely combined.
Use a small ice cream scoop with a release mechanism to drop healing TBSP of the dough onto the prepared baking sheets, about 1 inch apart.
Bake for 10-12 minutes, until the cookies are just starting to crack on top and a toothpick inserted into the center of a cookie comes out clean. Remove from the oven and let the cookies cool completely on the pan while you make the filling. They will look more like mini cakes then cookies, so don't panic about that.
Maple Syrup Cream Cheese Filling
3 cups powdered sugar
½ cup unsalted butter, at room temperature
8 ounces cream cheese, at room temperature
3 TBSP maple syrup
1 tsp vanilla
In the bowl of an electric mixer fitted with a paddle attachment, beat the butter until smooth with no visible lumps. Add the cream cheese an beat until combined.
Add the powdered sugar, maple syrup and vanilla and beat until smooth. Be careful no to overbeat the filling, or it will lose structure.
To assemble:
Turn half the cooled cookies upside down. Pipe filling (about a TBSP) onto that half. Place another cookie, flat side down, on top of the filling. Press down slightly so that the filling spread to the edges of the cookie. Repeat until all the cookies are used. Put the whoppie pies in the refrigerator for about 30 minutes to firm before serving.
Adapted from Baked: New Frontiers in Baking by Matt Lewis and Renato Poliafito