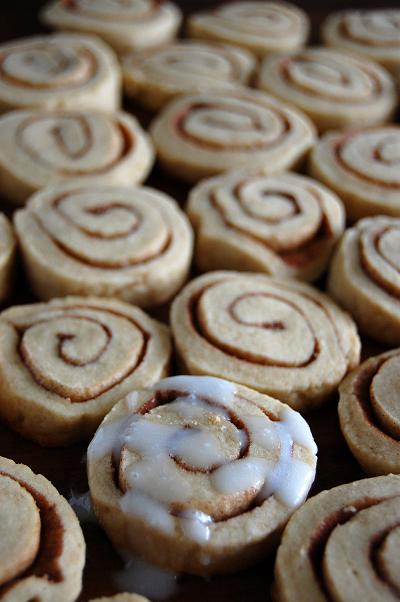 These babies are from way back in 2008…I just love how cute they are. At first they really do look life cinnamon rolls. Someone should make them with a little cream cheese frosting and tell me how that is. Or perhaps I should just do that myself.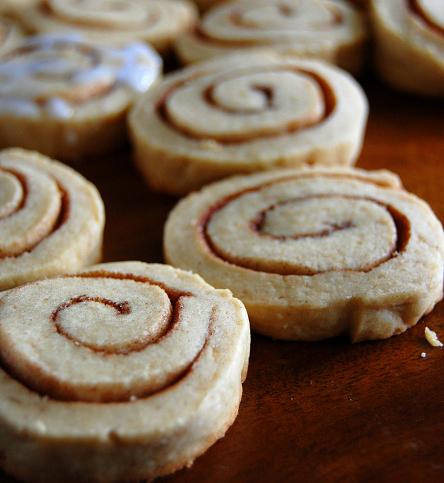 Cinnamon Roll Cookies
For the filling:
½ cup sugar
2 TBSP ground cinnamon
For the dough:
3 cups all-purpose flour
2 tsp baking powder
1 tsp ground cinnamon
½ tsp salt
1 cup unsalted butter, at room temperature
1 cup brown sugar
2 eggs
1 tsp vanilla extract
For the icing:
1 cup powdered sugar
¼ cup warm water
½ tsp powdered egg whites
For the filling combine sugar and 2 TBSP cinnamon in a small bowl, set aside.
Whisk flour, baking powder, 1 tsp cinnamon, and salt together for the dough in a bowl; set aside.
Cream butter and brown sugar in a bowl with a mixer until smooth. Add the eggs and vanilla; mix until incorporated. With the mixer on low speed, add the dry ingredients, blending just to incorporate; do not over mix.
Trace a 16-x-9-inch rectangle on a sheet of parchment or wax paper. Pat the dough into the rectangle using your hands, then sprinkle half the cinnamon mixture over the dough.
Beginning on a long side and using the paper to help you, roll the dough into a log. Dust the outside of the log with the remaining cinnamon mixture (I forgot to do this). Wrap log in plastic and chill for at least 3 hours.
Preheat oven to 350F; line tow baking sheets with parchment paper.
Slice chilled dough into 1/4-inch thick slices and arrange on prepared baking sheets, spacing 1 inch apart. Bake 10-12 minutes, or until golden brown. Let cookies cool on the pan for 5 minutes, then transfer to a rack.
Combine icing ingredients in a bowl. Drizzle icing over cooled cookies, let stand at room temperature.
Adpated from Holiday Cookie from Cuisine at Home Magazine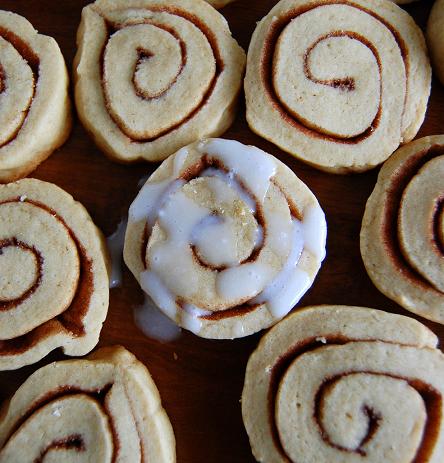 Pin It