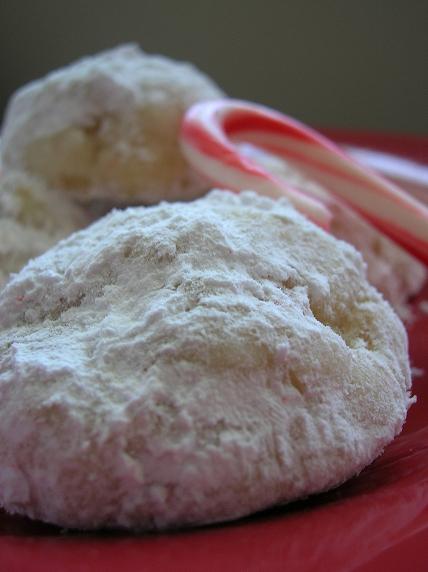 Living in the land of Starbucks often brings you to one. Last year they were having a holiday open house and I happened to stop by that day. They were giving out free drinks and free cookies. I fell in love with these little peppermint cookies they had and immediately went home and tried to replicate it. The peppermint definitely came from candy canes, so that is what I used….in both the cookie and the powdered sugar "icing". The best part is smashing the heck out of the candy canes…gets rid of any aggravation you might have. They aren't exact, but they are close enough for me. I will be bringing these to my cookie exchange because they say Christmas to me. Although almost anything candy cane, egg nog or gingerbread says Christmas to me.
Candy Cane Meltaways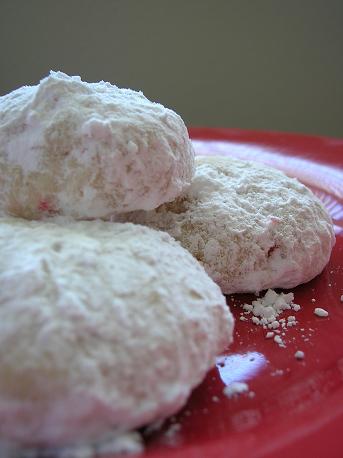 3/4  cup unsalted butter, room temperature
1/2 cup sugar
1 tsp vanilla
2 1/4 cups all-purpose flour
1/2 tsp salt
3/4 cup peppermint crunch chips
1/2 cup powdered sugar
1/4 cup crushed candy canes
Preheat oven to 325F.
Cream butter, sugar and vanilla together, about 3 minutes.
Add flour, salt and candy canes. Mix well.
Roll into balls about the size of a walnut.
Refrigerate for 30 minutes.
Bake about 20 minutes, but do NOT brown.
Mix powdered sugar and 1/4 candy canes together.
Roll cookies into powdered sugar mixture when slightly cool.
Make 3 dozen.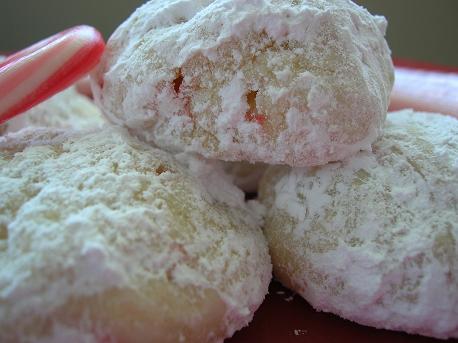 Best when accompanied by peppermint hot chocolate!!!!