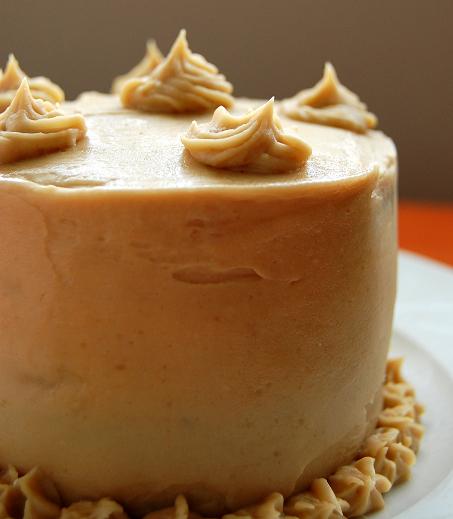 Well, with all of my "Fall" baking, you knew at some point you would see some pumpkin. And well, here it is. In fantastic cake form. This cake originally had many more components to it, as many of Desaulniers recipes do, but I simplified it. Now you may be looking at the recipe thinking, that is simple? I would like to point out that I didn't say IT was simply, just simplified. I must say that this is one of the tastiest cakes I have made in awhile, and well, I bake a lot of cakes as you know. This cake is so moist from not only the pumpkin but the buttermilk(yes, again with the buttermilk). It also has a wonderful brown sugar icing(yes, again with the brown sugar icing). This icing is very different from the one with the spice cake. It is creamy, and tangy(like you would swear there is a little cream cheese in there…but there is not). It is interesting to spread though and I highly suggest you make a crumb coat. The butterscotch filling is very light and reminds me of the mousse that I had in my wedding cake. I was sooooo happy to discover this filling, for I loved my wedding cake and now that I have a filling that tastes similar I plan to recreate my wedding cake…well the flavors at least(a cake decorator I am not…if you want proof just look at the cake in the pictures). If you are at all a pumpkin fan, I know you will be loving this cake! Be warned that this cake comes from a master pastry chef and does take awhile as well as some technique.
P.S. Just 39 more days until NHL hockey starts(but I'm sure you all already knew that!
)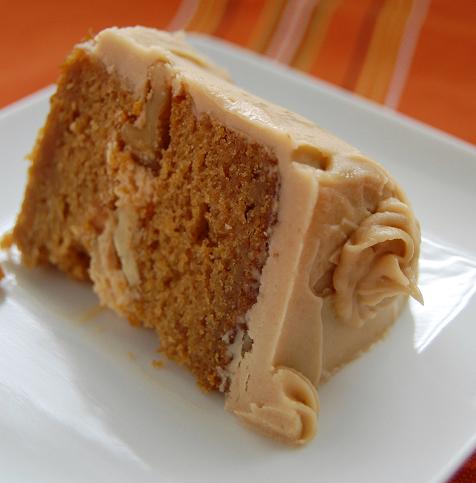 *
This cake was made using mini pans. The recipe is for one layer of cake not two. I have two layers because  I used these Kaiser Bakeware Mini Springform Pans, Set of 4
 . To make a full cake you will need to make a double batch of the pumpkin 9-inch layer.
Pumpkin Butterscotch Cake
Pumpkin Cake
¼ pound unsalted butter
1 cup all purpose flour
1 tsp baking soda
½ tsp ground cinnamon
¼ tsp ground cloves
½ tsp ground nutmeg
½ tsp salt
¾ cup 100% natural solid pack pumpkin
½ cup nonfat buttermilk
½ cup tightly packed light brown sugar
½ cup sugar
2 large eggs
½ tsp vanilla extract
Grease and flour a 9-inch round cake pan. Combine together in a medium bowl flour, baking soda, spices, and salt. Set aside.
Place pumpkin and buttermilk in a small bowl and combine thoroughly. Set aside.
In a mixer fitted with a paddle attachment cream together the butter and sugars. Beat on medium for 2 minutes. Scrape down the sides of the bowl . Increase speed to high and beat an additional 2 minutes. Scrape down the bowl. Add the eggs and beat on medium for 30 seconds. Add the vanilla and beat on high for 30 seconds. With mixer on low alternate adding the dry ingredients with the wet ingredients into the mixing bowl. Mix until just combined. Remove the bowl from the mixer and use a rubber spatula to finish mixing the batter, until smooth and thoroughly combined.
Immediately pour the cake into the prepared pan, spreading evenly. Bake on the center rack of a preheated 325F oven. Bake for about 45 minutes or until a toothpick inserted comes out clean. Remove the cake from the oven and cool in the pan for 15 minutes at room temperature. Invert cake onto a plate or cake circle. Turn the cake upright and refrigerate until needed.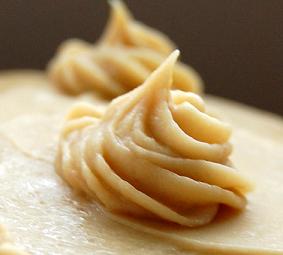 Butterscotch Walnut Filling
¾ cup heavy cream
¾ cup sugar
¼ tsp fresh lemon juice
¼ pound unsalted butter, cut into 4 1 ounce pieces
1 cup walnuts, chopped
Heat cream in a saucepan over medium-low heat, until hot(do not allow to boil or simmer). Combine sugar and lemon juice in a separate saucepan. Stir with a whisk to combine(the sugar will resemble moist sand). Caramelize the sugar for 4 to 5 minutes over medium high heat , stirring constantly with a whisk to break up any lumps. Remove the saucepan from the heat. Add the hot cream, one half at a time. Add the butter, on piece at a time, stirring to incorporate before adding the next piece. Cool in the refrigerator for 45 minutes before placing in the bowl of an electric mixer fitted with a paddle attachment. Beat on high for 2 minutes, until light(but not fluffy). Add the walnuts and stir to incorporate. Set aside for a few minutes.
Brown Sugar Icing
2 cups tightly packed brown sugar
1 cup heavy cream
½ pound unsalted butter, cut into 8 1-ounce pieces
¼ tsp cream of tartar
Heat brown sugar, heavy cream, 2 1-ounce pieces of butter, and ¼ tsp cream of tartar in a 3 quart saucepan over medium-high heat, stirring frequently while bringing the mixture to a boil. Allow the mixture to continue boiling while stirring constantly, for 2 minutes. Transfer the bubble hot mixture to a 3-quart stainless steel bowl and allow to stand at room temperature for 1 hour before proceeding. Place the cooled mixture int the bowl of an electric mixer fitted with a paddle. Beat on low for 30 seconds. Then beat on medium for 2 minutes, while adding the remaining 6 pieces of butter, one at a time, until incorporated. Scrape down the sides of the sides of the bowl. Increase the speed to high and beat for an additional 2 minutes. Scrape down the sides of the bowl and beat on high for an additional 1 minute until light and fully. Transfer 1 cup of icing to a pastry bag fitted with a large star tip, and place in the refrigerator until needed.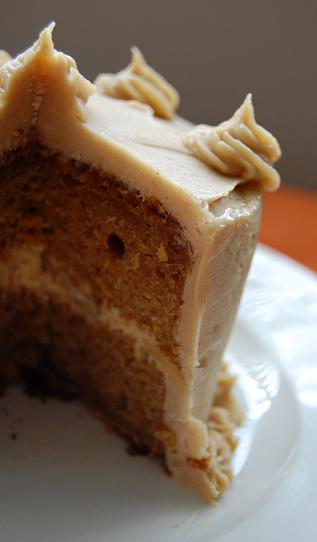 Assemble the cake:
Remove the cake from the fridge. Taking a serrated knife, split the cake horizontally. Spread butterscotch filing on the bottom layer of the cake, evenly spreading the filling to the edges. Place the pumpkin cake top layer on top of the butterscotch filling. Press gently but firmly to level the layers. Refrigerate the cake for 20 minutes. Remove the cake from the refrigerator and use a cake spatula to coat the top and sides of the cake with the icing. Pipe a circle of twenty brown sugar icing stars along the outside edge of the top of the cake. Refrigerate the cake for 30 minutes before cutting and serving.
Adapted from Desserts To Die For by Marcel Desaulniers, 1995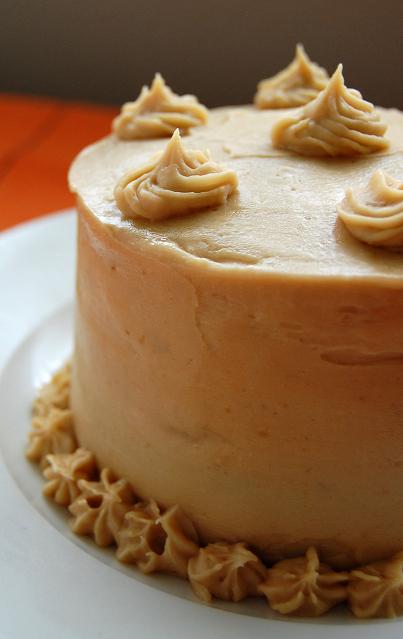 Pin It