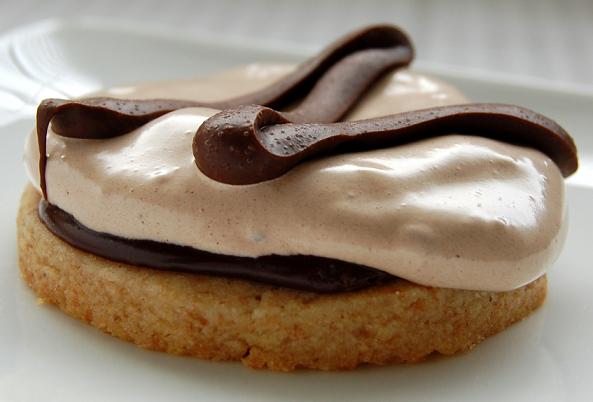 Awhile ago there was a book that was pretty popular called Men Are From Mars, Women Are From Venus. Personally, I'm from planet Earth and I didn't speak either of those languages. If you are wondering what the book was about, it was a relationship book basically saying that men and women are from different planets when it comes to expressing how they feel and how they love. Basically a crock of shit. But, it made the author very rich…good for him.
When I saw this recipe I thought, maybe I should move to Mars because these sounded wonderful! They are a take on the Southern treat called Moon Pies(which I have never had but would like to). The traditional kind are sandwich cookies and these are more open faced. You could however make these into a sandwich cookie if you would like. I really love the use of the graham flour as it gives the cookie that graham cracker taste. I made smaller ones(shocking) than what the recipe called for and they turned out great. The marshmallow is wonderful and I plan to use it in a cake someday. And I already used the chocolate-caramel ganache in my Bailey's cake so there are many ways to use the different components of these cookies.
If this is an indication of what life is like on Mars, maybe I really should move there.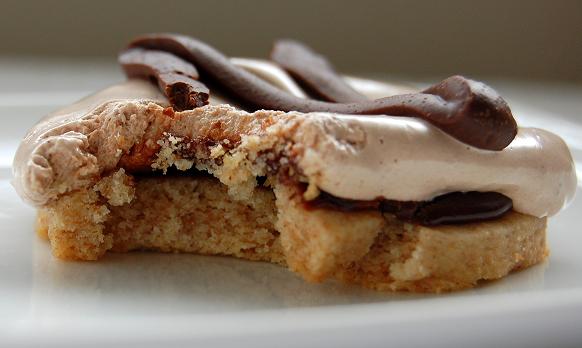 Mars Pies
Cookies
Chocolate-Caramel Ganache
Chocolate-Marshmallow Filling
Chocolate Coating
All recipes follow
Cookies
1 cup unsalted butter, at room temperature
½ cup powdered sugar
1 cup all-purpose flour
1 cup whole-grain graham flour
¼ tsp salt
½ tsp baking powder
1 tsp vanilla extract
Preheat oven to 350F.
Grease baking sheet or line with parchment paper.
Cream butter and sugar together, about 3 minutes until fluffy.
Add both flours, salt, baking powder and vanilla. Beat on medium speed until thoroughly incorporated.
Roll dough out to ¼ inch thickness on a lightly floured flat surface.
Using a 3 ½ inch diameter cookie cutter, cut out six cookies(I used just a small biscuit cutters since I wanted mine smaller and got 14 cookies).
Transfer to the prepared baking sheet and bake 10-12 minutes or until golden brown. Cool the cookies completely on racks before covering with ganache.
Chocolate-Caramel Ganache
10 ounces bittersweet chocolate, finely chopped
1 cup heavy whipping cream
10 caramel candies, unwrapped
Place the chocolate in a medium bowl. Heat the cream and caramels over medium-low heat, stirring occasionally, until the caramels have melted completely. Pour the hot mixture over the chocolate and stir until melted.
Chocolate Marshmallow Filling
1 ½ envelopes unflavored gelatin
1 cup cold water
1 ½ cups sugar
1 cup light corn syrup
1/8 tsp salt
6 TBSP unsweetened cocoa powder
Using a mixer fitted with a whisk attachment, whit the gelatin into ½ cup of the cold water. 
In a medium saucepan, heat the sugar, corn syrup, remaining ½ cup of cold water, and salt with out stirring until it reaches the soft-ball stage, registering 234 to 240F on a candy thermometer.
Add the warm sugar mixture to the gelatin mixture in a slow, thin stream, stirring continuously on low speed. Increase to high speed and beat about 5 minutes, until the mixture has thickened and cooled. Reduce the speed to low, add the cocoa powder 1 TBSP at a time, and beat until incorporated.
Chocolate Coating
8 ounces bittersweet chocolate, coarsely chopped
Microwave the chocolate in a bowl for 1 minutes on  medium-high. Stir, and if the has not completely melted, keep  microwaving for 30 second intervals. Stir until smooth.
To Assemble the Pies:
Place the cookies on a baking sheet covered with waxed paper, leaving about 2 inches between the cookies. Spread a ¼ inch-thick layer of ganache on top of each cookie and refrigerate about 10 minutes, until set. Spread a layer of marshmallow filling(about 2 TBSP) over the ganache, it will flow over the edges of the cookie. Spoon about 2 to 3 TBSP of the melted chocolate to cover each cookie completely. Refrigerate the cookie about 10 minutes, until the chocolate layer has hardened. Store in an airtight container with waxed paper between each layer.
Adapted from The Pastry Queen by Rebecca Rather with Alison Oresman