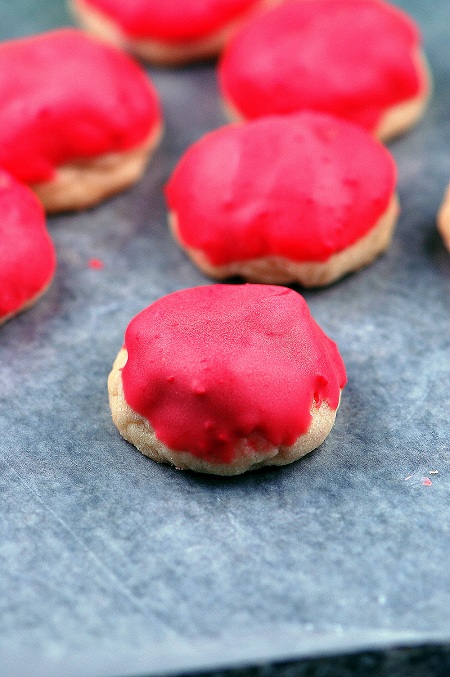 Just a quick note as I rush off to my cookie exchange…which these cookies are for. Didn't mean to bring up religion on here…and it really was meant, again like 99% of my blog to be something amusing. Though with the emails I got, it was pretty amusing. Especially from the Rick Perry supporters, those were the best emails. If any of the people who let me know I was mocking Christianity and called me basically a heathen actually read my blog you might actually catch on to the fact that I am hanging CHRISTmas decorations and what not, celebrate Easter, sensing a theme??? I don't worry about the hate mail…Karma will get them.
Like I said these were made this morning for my cookie exchange today…which if I don't hurry up I will be late too.
They were originally made with the regular Andes Mints Baking Chips but I thought that the Peppermint Crunch Chips were way more festive and the bright pinkish red color is more fun than the dark brown. They are essentially a butter cookie with a subtle peppermint taste to them. Very addictive and yummy. Luckily I am giving them away or else I would eat them all today most likely. The recipe says you will get 6 dozen cookies out of this…I got 2 ½….I guess I like my cookies bigger.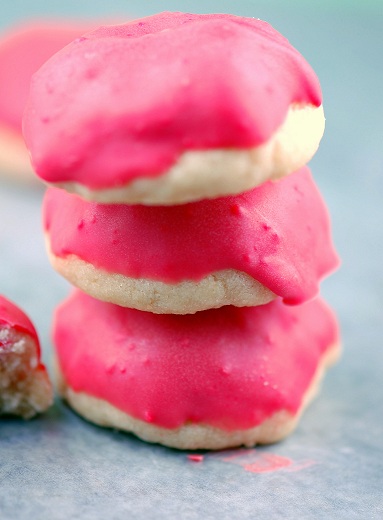 Peppermint Crunch Drops
1 cup unsalted butter, at room temperature
2/3 cup granulated sugar
2 tsp. vanilla extract
1 egg yolk
2 cups all-purpose flour
1 10 ounce package (2 cups) Andes Peppermint Crunch Baking Chips
Heat oven to 325°F.
Combine butter and sugar in large bowl. Beat at medium speed until creamy. Add vanilla and egg yolk; continue beating until well mixed. Reduce speed to low. Add flour, beating just until mixed. Stir in 1/3 cup baking chips.
Shape dough into 1-inch balls. Place 1 inch apart onto ungreased cookie sheets. Bake for 12 to 15 minutes or until bottoms just start to brown and cookies are set. Cool 1 minute on cookie sheets; remove to cooling rack. Cool completely.
Meanwhile, place remaining 1 2/3 cups baking chips in 1-quart saucepan. Cook over low heat, stirring constantly, until melted and smooth (1 to 2 minutes).
Tilt pan and dip tops of each cookie into melted chocolate; shake off excess chocolate. Place onto waxed paper. Let stand at room temperature until chocolate is set (15 minutes). Sprinkle with powdered sugar. Store in container with tight-fitting lid.
Adapted from Land O' Lakes.com